VPN Configuration for iPad and iPhone
Find and tap the Settings icon in your app screen.
In the left panel select General.
In the right panel scroll down until you reach VPN and tap VPN.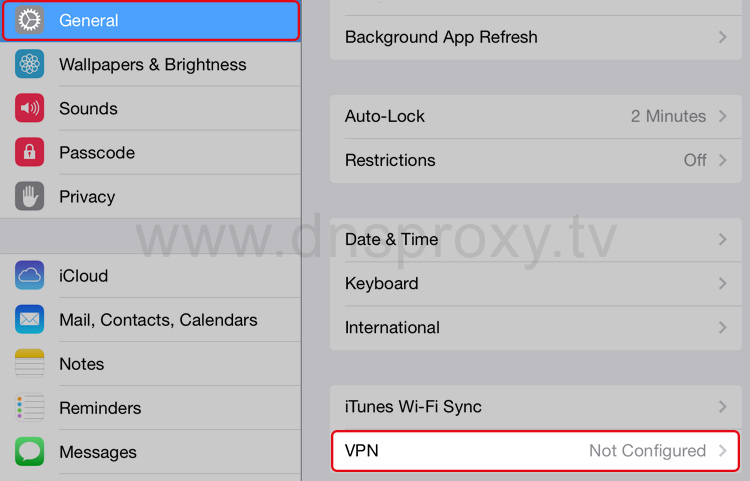 Tap Add VPN Configuration in order to start configuring the VPN on your device.
Hint: To edit settings for existing VPN connections, just tap on the information icon (i) next to the VPN connection name.
Enter the following settings:
Type change it to L2TP

Description type any name like: DNSProxy VPN
Server choose one VPN server from the list below:

| Location | Server Name |
| --- | --- |
| United States, Chicago | us6.dnsproxy.tv |
| United States, Los Angeles | us5.dnsproxy.tv |
| United States, West Coast | us4.dnsproxy.tv |
| United States, East Coast | us3.dnsproxy.tv |
| United Kingdom, London | uk2.dnsproxy.tv |
Account type your DNSProxy.TV username
Password - your DNSProxy.TV password
Secret enter dnsproxy
Send All Traffic - has to be active (green position)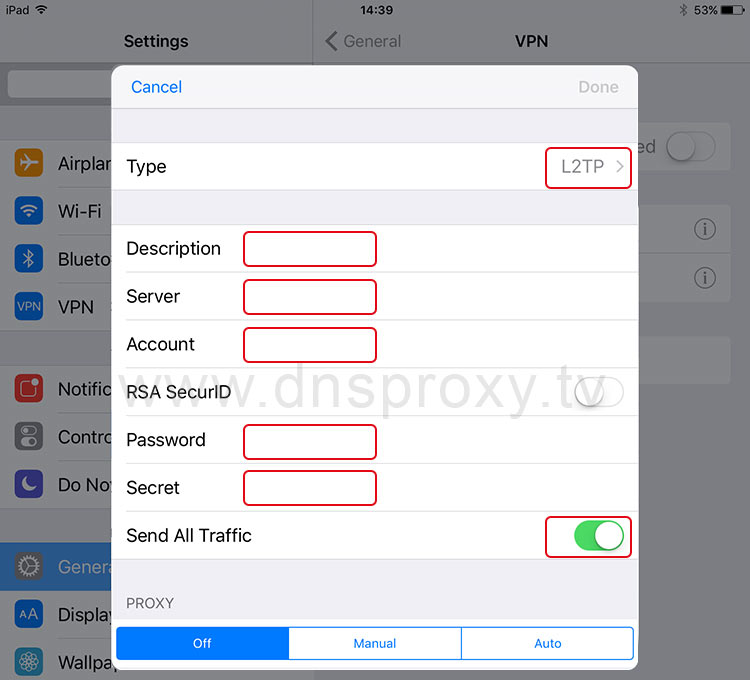 Hint: Please type your DNSProxy.tv username and password correctly. Do not forget typing any existing capital letters.
Tap Done in the top-right corner of the screen.
Select the new VPN connection and turn it on by tapping the connection button which is available on the row named: Status
Hint: If the apps you need are not available on your iPad or in the App Store, please check our guides on how to get US Apps on your device.